She's got drive: Coach Lisa Strom strives for wins, balance for women's golf team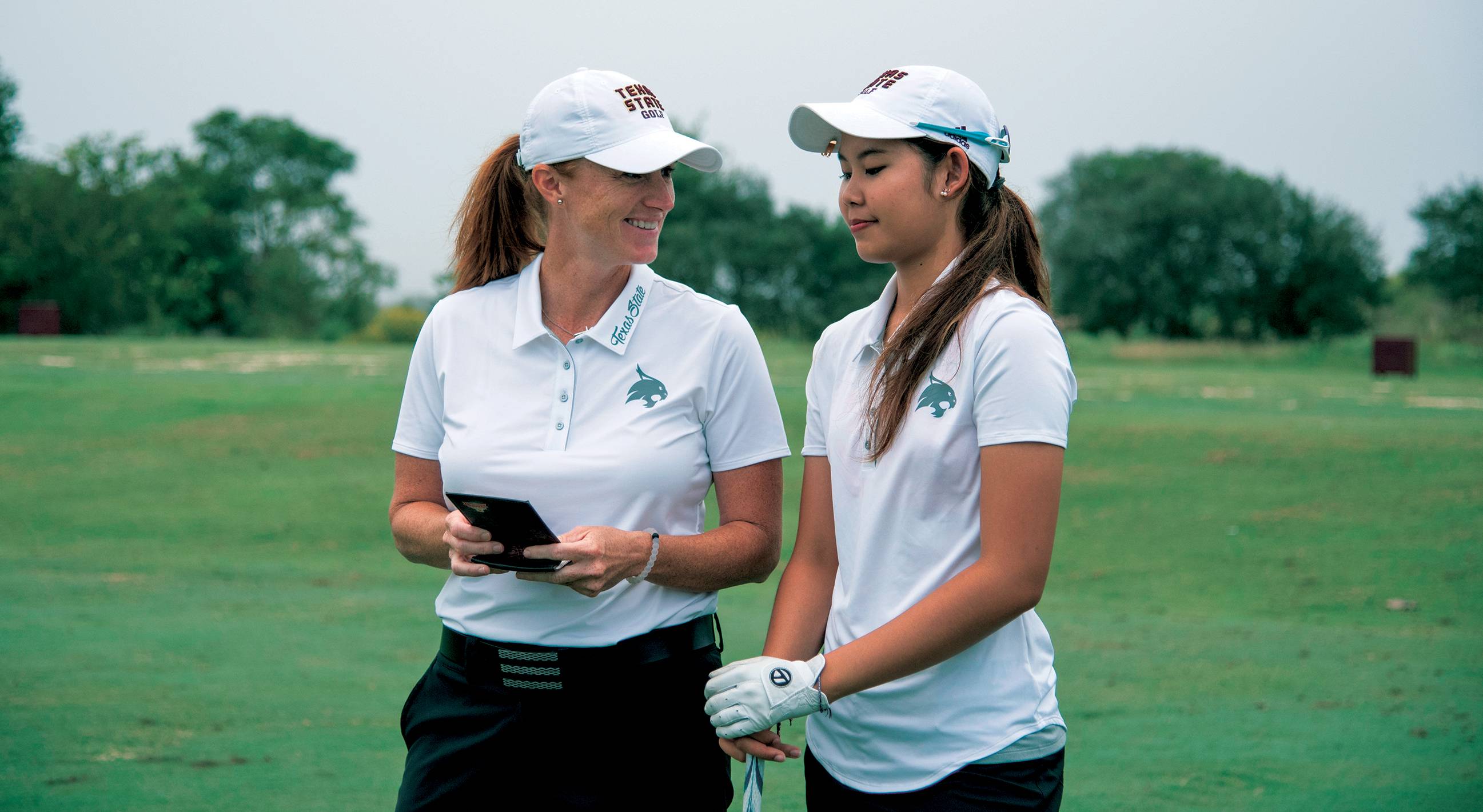 She's got drive
by Mark Wangrin
Coach Lisa Strom strives for wins, balance for women's golf team
Carl Strom was the original golf rangefinder. If there was a flag stuck in a patch of freshly rolled bentgrass anywhere near the family car on a long vacation trip, he knew about it.
"My dad could smell out a golf course from 30 miles away," recalls Lisa Strom, the second-year Texas State University women's golf coach, of those trips when she was a young girl. "He'd be like, 'Hey, there's one around here,' and sure enough we'd pile out of the car, get our clubs down off the roof rack, and play a round of golf."
They'd drive from their home in Aberdeen, South Dakota, to some resort town in Arkansas where Carl and wife Hanora would sit through a morning spiel on a time-share condo just so they'd score afternoon rounds on the resort's course. They'd drive to Memphis so Hanora, a huge Elvis fan, could visit Graceland — she didn't name her daughter Lisa Marie, same as the King did, just by chance — and find courses along the way.
The good thing was that young Lisa loved golf. How much, though, she had to decide. One day she sat down with her dad, who passed away shortly before she took the Texas State job. Carl told her, "If you want to get better, I can't force you to do it. It's got to come from you."
The light went on. Strom practiced, played, and practiced some more as her family resettled in Lancaster, Pennsylvania. She earned a scholarship to Ohio State University, where she was twice All-Big Ten, helped lead the Buckeyes to the 1999 Big Ten title and won individual honors at the 2000 NCAA East Regional.
She played professionally for 10 years on the LPGA and Futures tours before returning to Ohio State as an assistant coach, where she learned from coaching legend Therese Hession and earned a reputation as a crackerjack recruiter.
In summer 2016, she came to Texas State as head women's golf coach, arriving with a foot in two worlds. On one hand, she grew up playing hardscrabble courses, often in dicey weather, and is quick to say, "I was far from a country club kid."
Strom carefully strives for a balance. She's embraced what Texas State's 2-year-old indoor facility, the Jim and Carol West Golf Facility, means to enticing recruits and yet is old school enough to spend the first three weeks of fall practice working only on green reading and "other simple stuff."
And, at Texas State, how many A's. The four-time academic All-Big Ten pick stresses schoolwork. This year two players, senior Millie Saroha and freshman Sasikarn Somboonsup, the Sun Belt Conference individual champion, were named Division I All-American Scholars by the Women's Golf Coaches Association. For Saroha, who has since graduated, it was the fourth time for the title.
"Athletics, academics, and social life — you can probably be good at two of them," Strom says. "One is going to have to go to the back burner. For our kids, if you want to be good in a lot of things, your social life can't be the No. 1 or 2 priority on the list."
After a third-place tie in the Sun Belt Conference Tournament, and not earning an invitation to the NCAA Regional Tournament, the Bobcats are hungry to have a better 2018 season.
Travis Comer, the associate athletics director who oversees golf, says Strom has the right mix of skills to take the program to new heights. "When we hired Lisa, we talked about it was great to win conference championships; great that we went to NCAA regionals. But we want to get to the (NCAA) national tournament, be one of the top 24 teams. She believes that. It's not easy, but why not shoot for the stars?"
Strom's excited about that trip, too. "Like I tell recruits, it's an exciting time to be part of women's golf at Texas State," she says. "We haven't even hit the tip of the iceberg of what we can do. That comes from knowing we are good enough." ✪