Social work graduates provide comfort, guidance to parents of premature infants.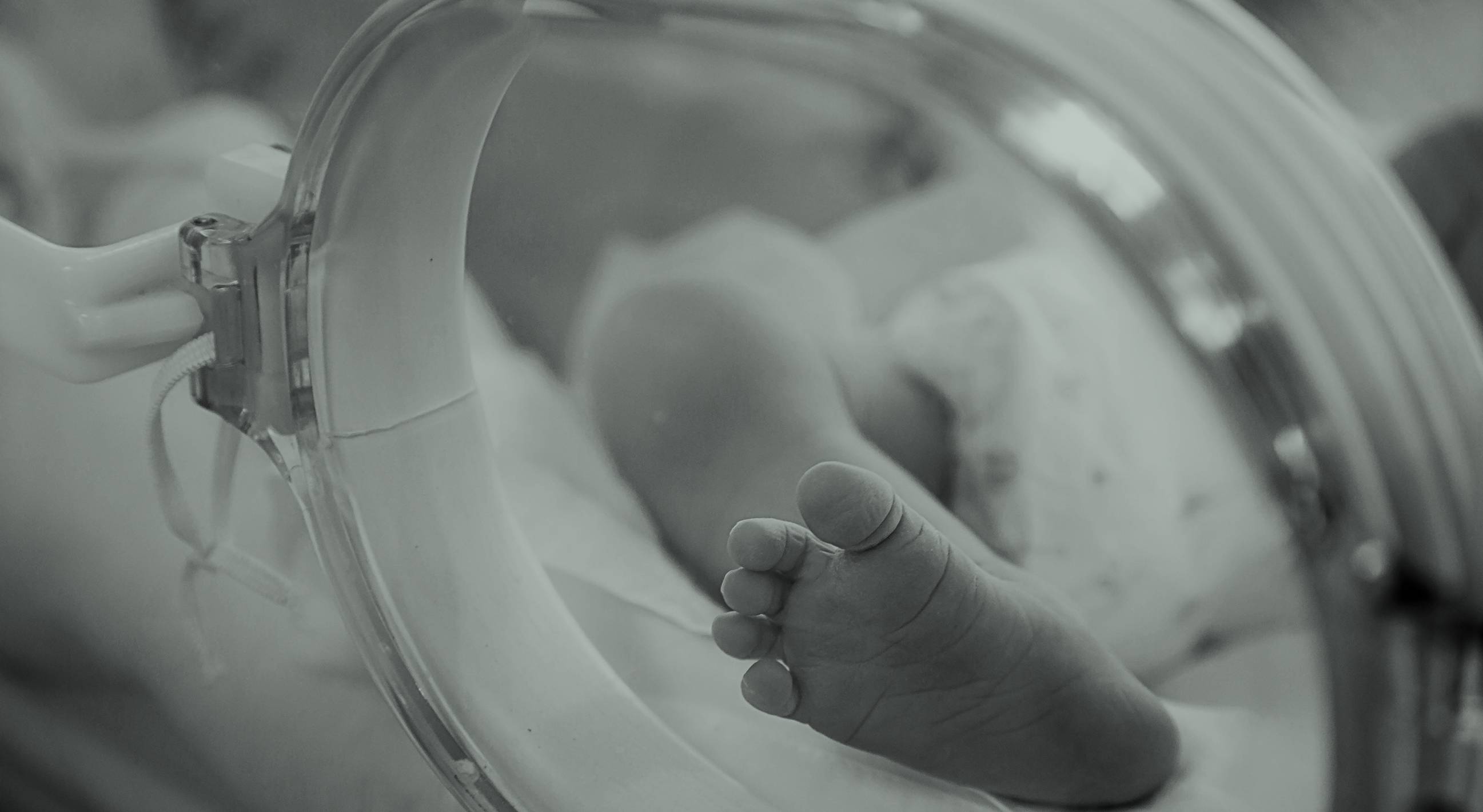 Baby Steps
By Brian Hudgins
Social work graduates provide comfort, guidance to parents of premature infants
When parents of newborn babies are battling against harsh reality, a pair of Texas State University graduates are there to give them a hand to hold.
Jennifer Beatty and Claire Brown oversee a variety of programs at Hand to Hold, an Austin-based nonprofit 501(c)3 organization that provides resources for parents of infants with special healthcare needs who are transferred to a neonatal intensive care unit (NICU). "When a baby is admitted to a NICU, I work to connect with the parents quickly," says Brown, a family support navigator who works with NICU families at St. David's Women's Center of Texas and St. David's Medical Center. "It may be a complete shock to the parents, who may have had a full-term baby who has respiratory distress or blood sugar issues."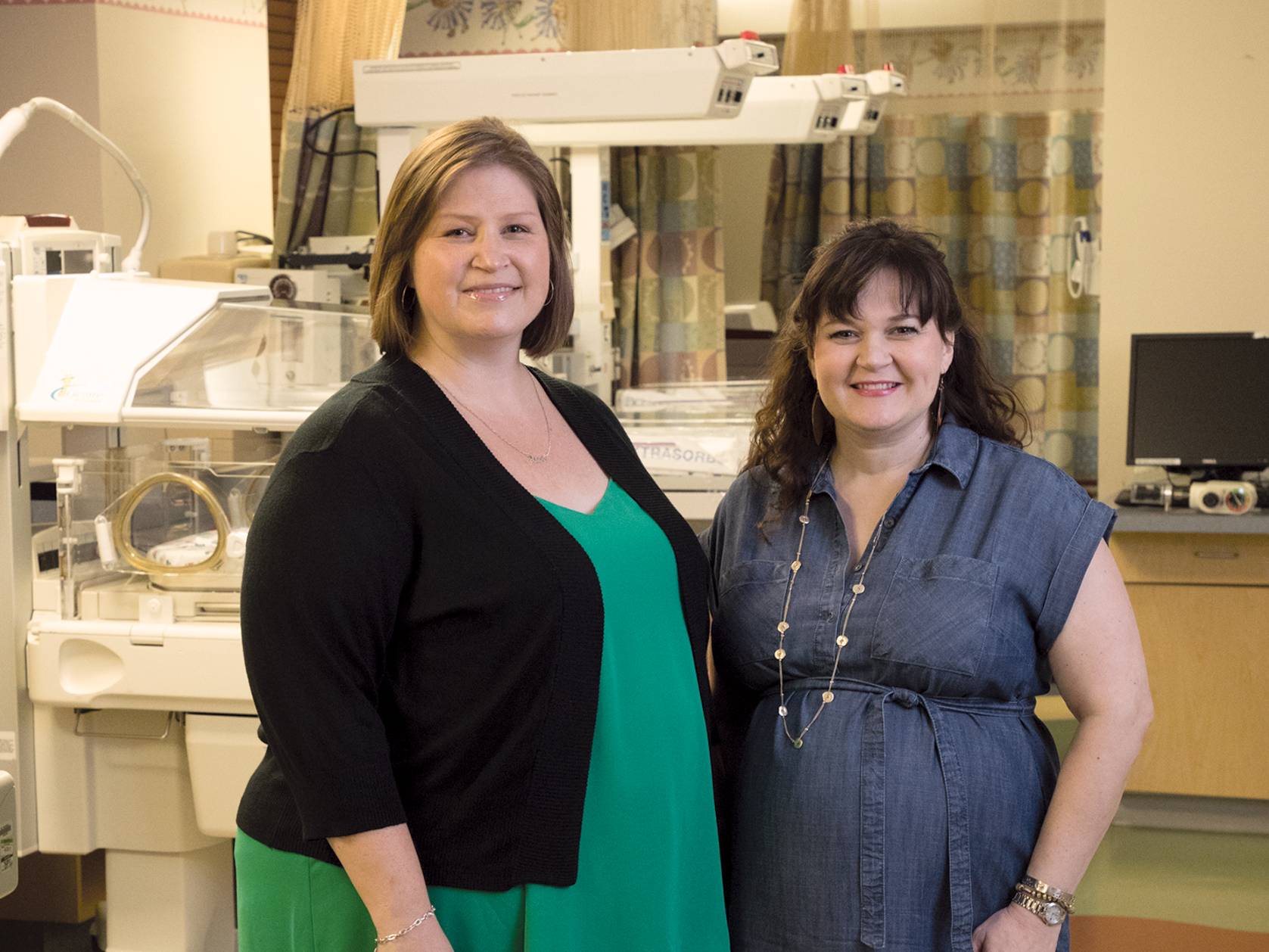 Parents who expect to follow a typical scenario before heading home are instead seeing their child being whisked away for further evaluation and treatment. It is a scenario that Beatty, Hand to Hold's program director, has twice experienced with her husband Michael Beatty, also a Texas State graduate. Their son, Ty, was delivered at 36 weeks and required an overnight stay in the NICU for blood sugar issues. The couple's second son, Liam, weighed 2 pounds, 9 ounces after an emergency delivery at 30 weeks. Forty-five days later, Liam was able to head home from the hospital. Beatty knows the ups and downs that happen along the way.
A licensed master social worker, Beatty has worked as an adoption caseworker and in hospice. Brown previously worked for Child Protective Services serving foster children, their biological parents, and foster parents. "Milestones are so important in the NICU," Beatty says. "You don't get to just walk in as a parent and hold your baby. You have to ask permission to change a diaper and be a parent to your baby. We had to find ways to remind parents that this is their baby."
Those reminders happen through tangible items that parents have close to their hearts. Hand to Hold gives NICU parents beaded necklaces designed to mark various milestones. Changing the first diaper leads to a diaper pin bead, a first bath for a baby means a duck bead, and the first time an infant is dressed in a special outfit is represented by a clothing-theme bead. "Your journey may look different (from other parents'), but it is your journey," Beatty says. "The milestones look different."
As babies progress beyond respiratory difficulty, feeding issues, or other concerns, a new set of questions awaits when a major milestone happens: A family gets the green light to go home. Although there is the excitement of being out of the hospital, the daily support system that has been provided by doctors, nurses, and other personnel is also removed. "It presents challenges," says Brown, who earned her master's degree in 2015. "Parents can feel isolated because they don't want to overexpose the baby to other people and germs. So we have a peer mentor matching group. The mentors have gone through training and they have been at the NICU, too."
Brown's early training to bridge the gap between families and solutions happened within her social work curriculum at the university. "My education helped prepare me to work with the NICU population by always meeting the parents where they are, rather than making presumptions about how they should feel or handle their current circumstances," Brown says.
Through email, phone calls and social media tools, new parents who have recently returned home can interact with other NICU families and ask questions. The goal is to help parents with the challenging moments that happen at home. "The parent is now the primary caregiver," Brown says. "It can hit hard. Parents can be in survival mode at the hospital. Then they might feel some anxiety at home."
The growth of these support networks has been a welcome development for Beatty, who joined Hand to Hold as an intern before moving to a family support navigator position and then program director. She describes the programs as being driven by patient needs — considering that almost all of the staff members have been in the NICU as a parent or have had family members in the NICU. "Even eight years ago when I was in the NICU, I didn't have that social network," says Beatty. "There are so many different communities online. Once they leave the NICU, some families are far away and not next door. It's great for them to be able to keep in touch through podcasts and social media and be able to ask: Is this normal?"
Before she had to address those questions as a parent or as a program director at Hand to Hold, Beatty bolstered her ability at Texas State. "My experiences and exposures to the diverse cultures and student population as well as my friendships with my social work cohorts broadened my horizons and helped prepare me to work with families from many backgrounds." ✪